LAST CARSTENSZ REFERENCIES
Carstensz Pyramid expedition March 2015, one of the climbers, Todd Bethard, Canada, said:
"It was a great trip, Our guides were great guys to get us  through the jungle and up the mountain. They were hard working and knew how to deal with the porters.  I would recommend them to anyone.   Thank you for holding my hand getting us all scheduled and set up.  It was a great trip. Todd"
Photo©Todd Bethard
Photo©Todd Bethard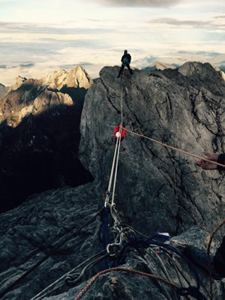 Photo©Todd Bethard
Carstensz Pyramid expedition February 2015, one of the climbers, Will Draper, UK, said:
"I am at home again, relaxing although my legs and knees still ache. It was a very successful trip in difficult conditions, something I enjoyed tremendously.
The guides were very friendly and knowledgeable. The best spoke good English and really tried hard to communicate with me. The tent was comfortable. The porters were more or less ok, although we had a few small incidents but I think this is normal and there was nothing that threatened the summit.
We lost a few days here and there due to weather. One day it was raining so hard the porters refused to go any further. A second day was lost because we were trapped by a storm and unable to go for the summit. Otherwise the flights and logistics worked fine.
It was probably slightly harder than I thought it would be. The trek into the mountain and the summit day were tough but very interesting and enjoyable. Overall it was excellent. Many thanks again to you and Petr, it was an unforgettable experience.
Best regards, Will"
Photo©Will Draper
Photo©Will Draper
Photo©Will Draper
Photo©Will Draper
Photo©Will Draper
---